We hope you are doing well. We are very excited to announce the new MarketXLS Menu and new functions data in MarketXLS available today, May 6th, 2022, for you to start using.
Key Updates –
MarketXLS has evolved with your feedback into a cross-platform investment research tool. Some of our new workflows needed multiple nested menus as we kept adding new data sources and functionality. Users have also requested changes to the ribbon to rearrange the frequently used menu items and make them more accessible.
Today, we're excited to share that, with considerable user input, we are launching the revamped MarketXLS Menu Bar. We aim to help you navigate faster around various MarketXLS features and prepare for new features and integrations.
We value your opinion … Please share your thoughts as we continue to enhance MarketXLS with your recommendations
Here are the new updates –
1) New Menu
We have broken down the Menu Bar into the following sections –
A. Refresh Data

This section includes all the functionality needed to refresh your data.
Refresh All: Refreshes all the data in any sheet of your workbook with marketXLS functions.
Refresh Selected: Will refresh a selected range of cells.
5 Min Refresh: Will refresh the data every 5 minutes.
Streaming On: The data will start streaming in real-time. This attribute will be ON as the default setting.
B. Historical Pricing

This section controls all of your marketXLS historical data.
1 Year Close: to pull a quick one-year history of prices for your ticker. You may also choose other timeframes from the dropdown.
Custom Dates: this tab controls the custom time frame for your historical data. Select a ticker or a group of tickers in Excel. Then, choose your dates and click on "Get Data" to create a new sheet with all the historical data.
C. Stock Lists
This section contains any "Lists." The lists can include your watchlists, watchlists shared with you, or pre-built stock lists made by our analysts. For example, SP500, Cryptos, Russell 2000, Stocks under $10, Daily Movers, etc. We recommend saving your personal universe of tickers as your watchlists to save time as a best practice.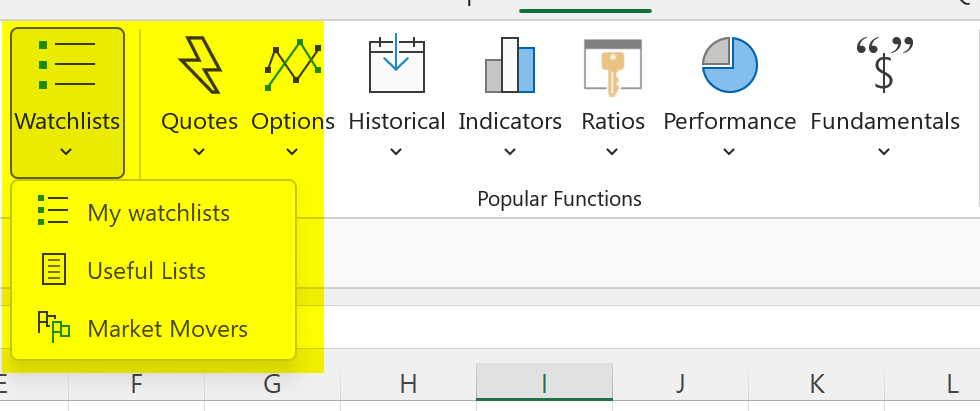 D. Popular marketXLS Functions
Some of our new workflows needed multiple nested menus as we kept adding new data sources and functionality. To make it easier for you to find popular marketXLS functions, we have created a new section that lists popular functions in different categories. Clicking on a function in this section will auto-populate the function and its default arguments in Excel, with a default symbol MSFT (Change this symbol manually or refer to a cell with another symbol).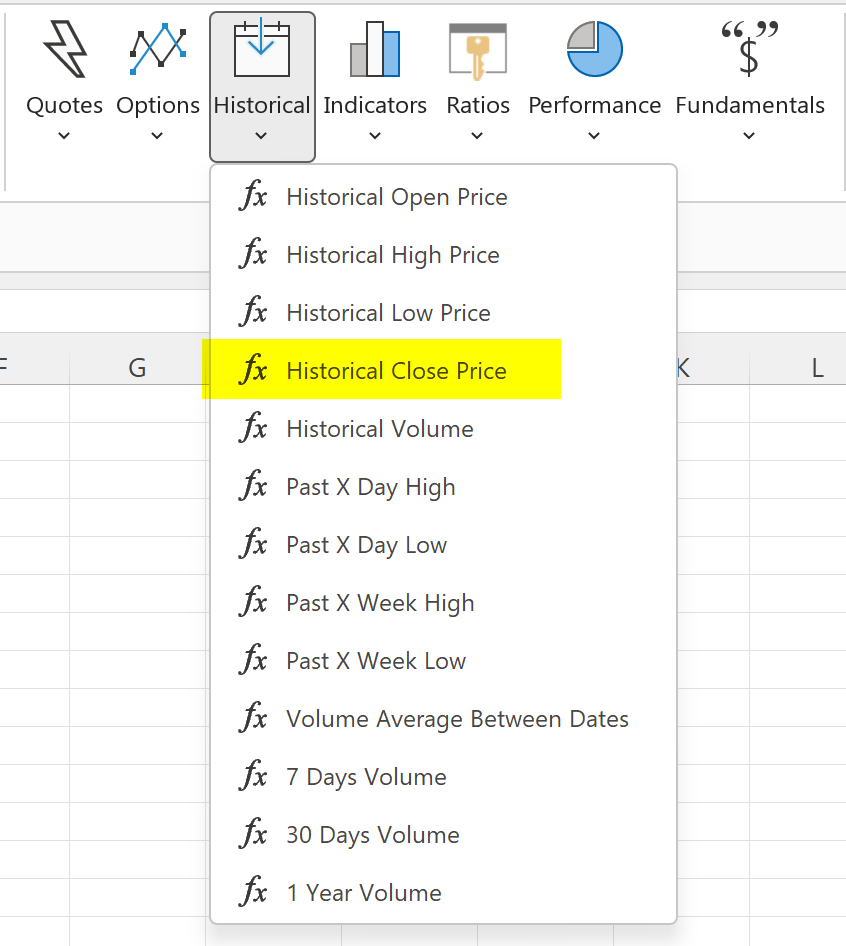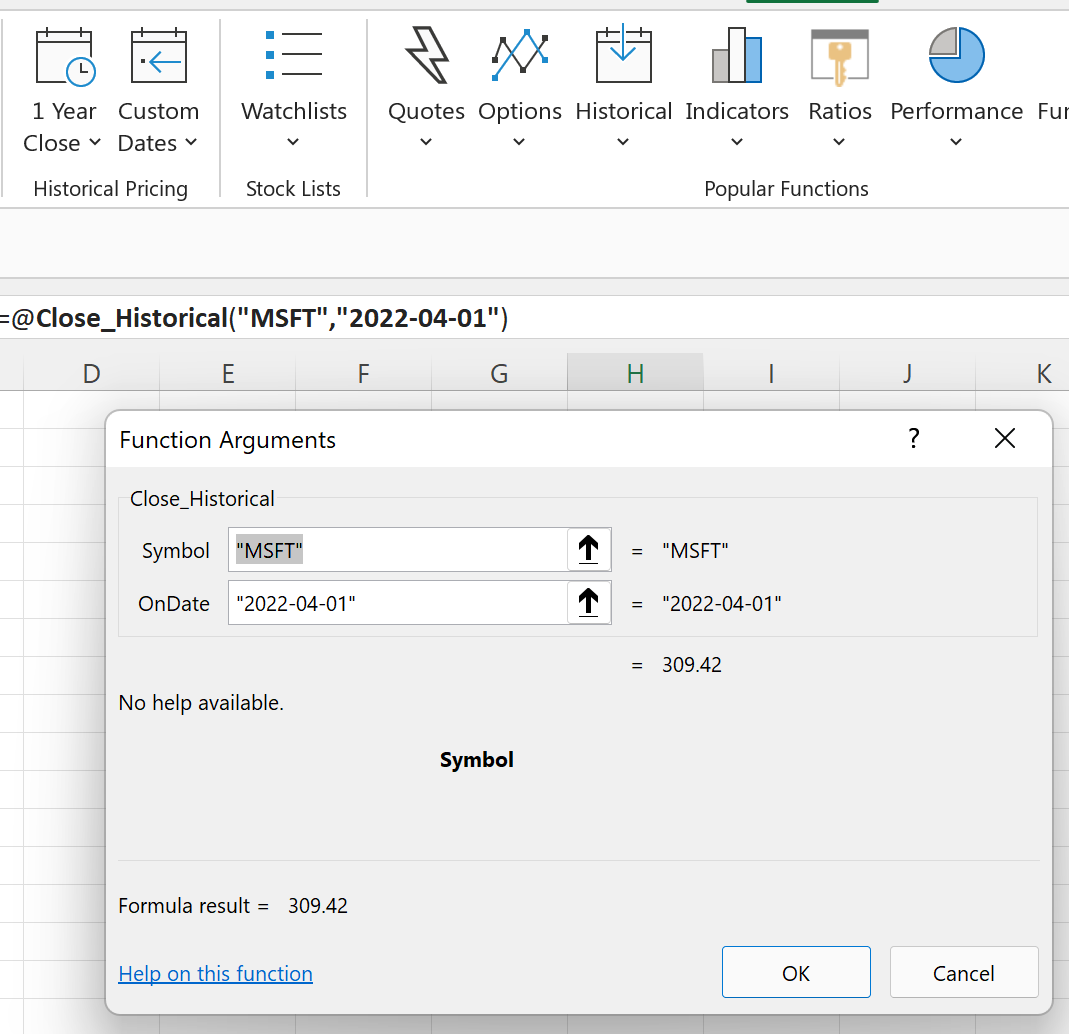 E. Analysis
Financials
Use this section to download the financial statement data of companies. Select the stock and click on one of these buttons (as shown below) to download the data.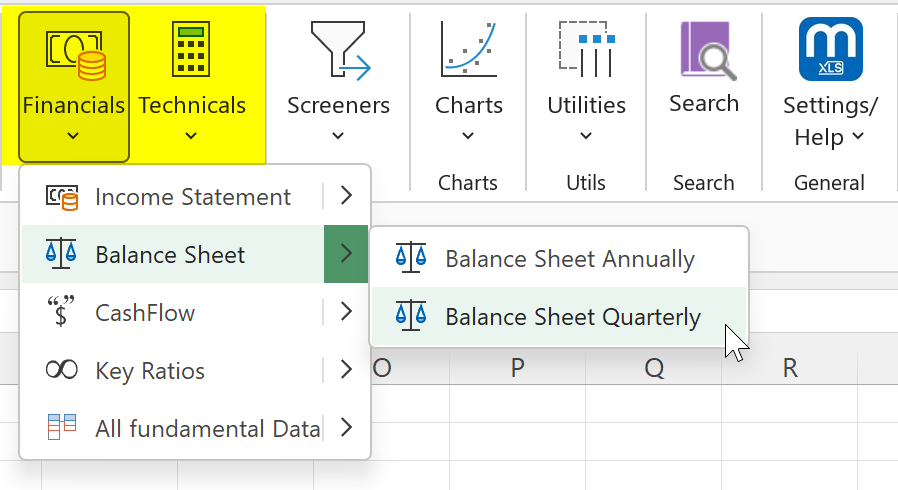 Technicals
Use this section to calculate technical indicators from the historical data in your sheets.
We have more than 100 technical indicators that can be used to build your custom screens. (We recommend attending one of the upcoming webinars to learn to use these features).
For example, if you have a dataset in a sheet with Open, High, Low, Close, and Volume, you can use this menu to generate indicator columns. 
F.  Filter
To help you filter and shortlists stocks that meet your screening criteria, find our stock screener and option screener in this section. Highly recommended if you are an Options Trader!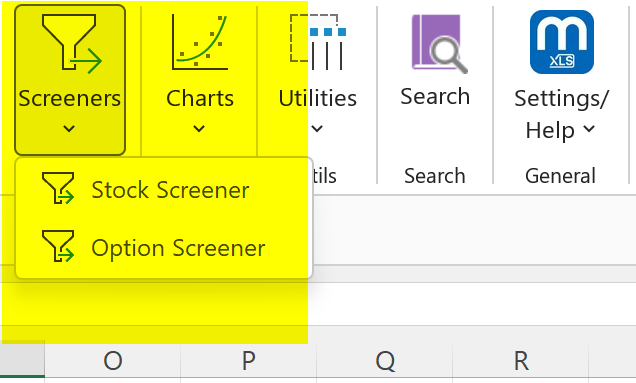 G. Charts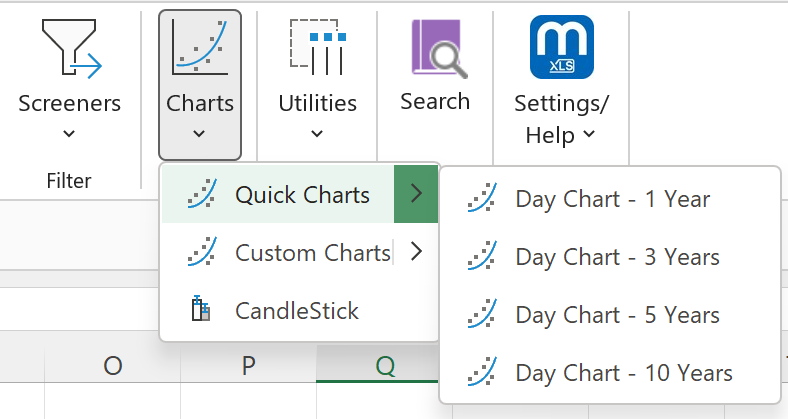 Create ready-made stock charts in Excel and make charts with your dataset in Excel. Customize your charts, add panels, in-built indicators, multiple axes, etc. Zoom in – Zoom out of charts with dynamic date format handling. Export charts you make in multiple formats, copy as PNG and quickly share on Twitter or StockTwits. Annotate Candlestick patterns on the charts.
H. Utilities
Ever-growing list of Utilities like Option Symbol Convertor, getting option chains, symbols by earnings date, etc, Twitter integration, and more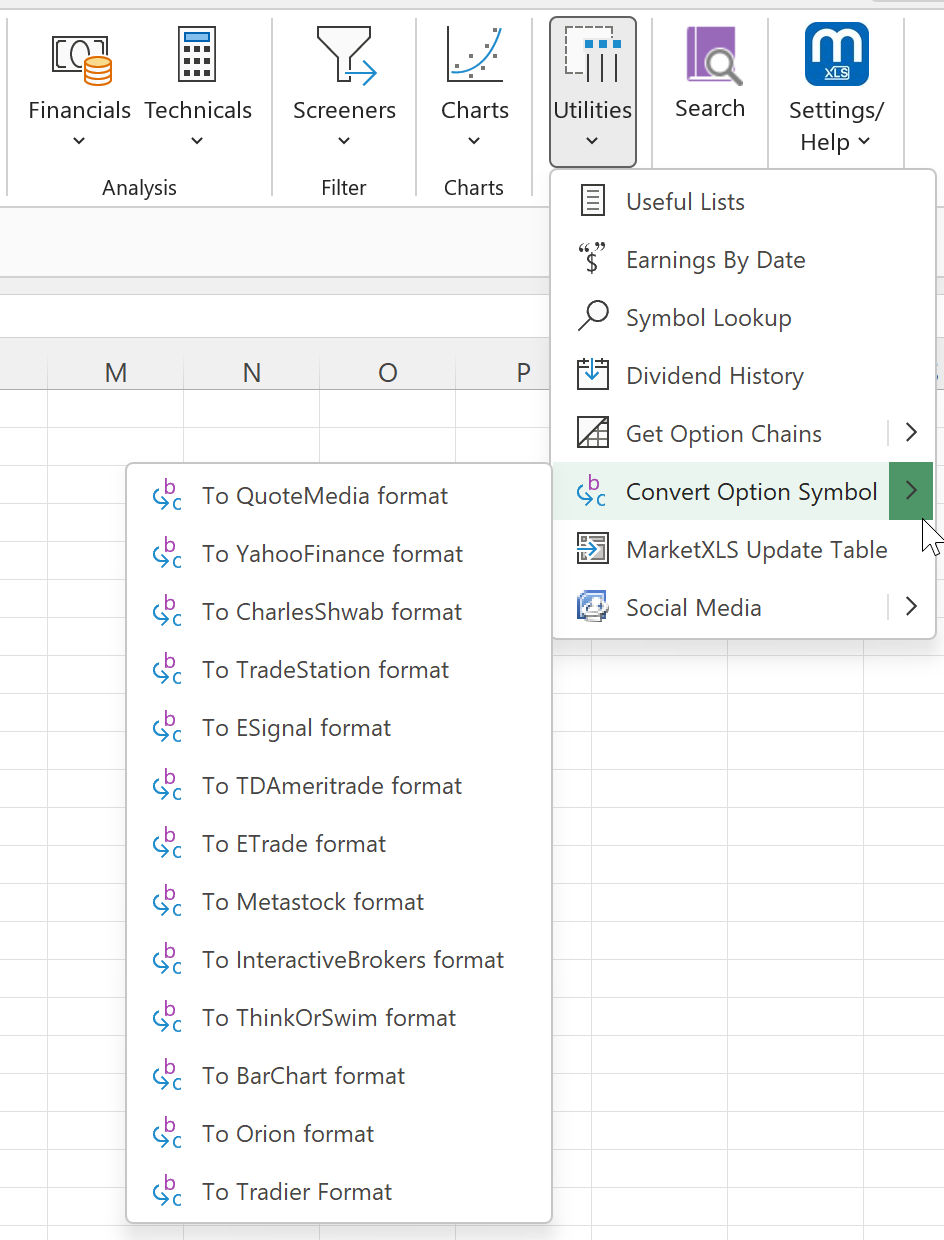 I. Search
Use this AI-driven search functionality to search from thousands of functions and many downloadable templates.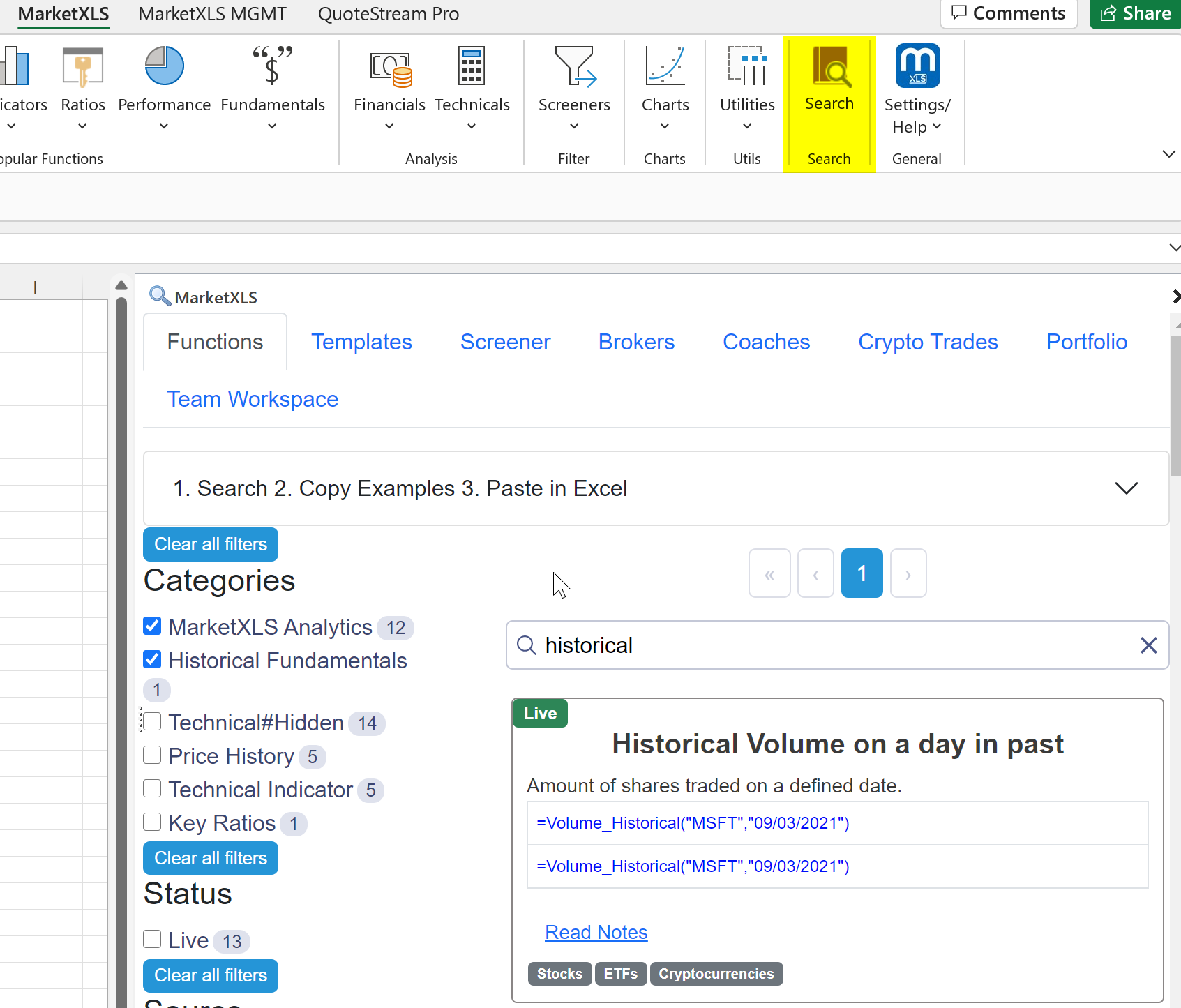 J. Settings/Help
The General segment hosts the settings/help tab, including your license information, license expiry, and 3d party username and passwords.
K. Status Page
As we continue to add new institutional-grade functionality, we have ensured that 90% of our requests are returned in 86ms or lower. In addition, we continue to monitor our response rate. As a result, calls rarely take more than 100ms to respond, and we provide institutional grade uptime.
To better communicate with you about any interruptions in our data feeds or in any group of functions,
we have developed a status page where we will update any incidents about the systems.
If you face any issues in any functions, please visit https://marketxls.com/status.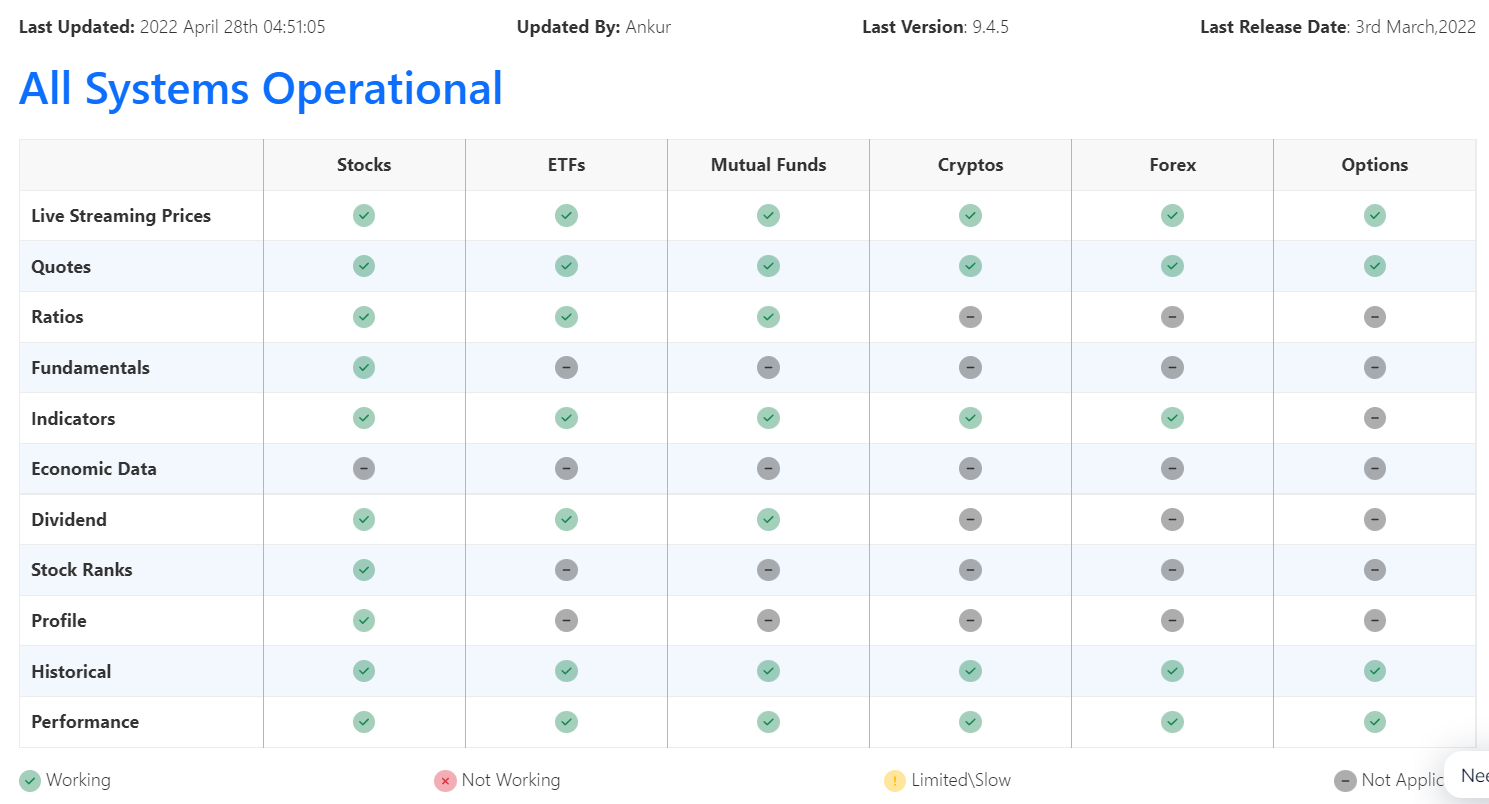 That's not all! We have some more exciting news to share.
2) MarketXLS Stock Ranks
Every night after the markets close, we calculate stock ranks for over 5000 stocks listed on the NYSE and the NASDAQ. We have used the methodology (described here) to calculate these ranks. Please note that marketXLS DOES NOT recommend stocks.
The stock ranks are available on our Website and in Excel.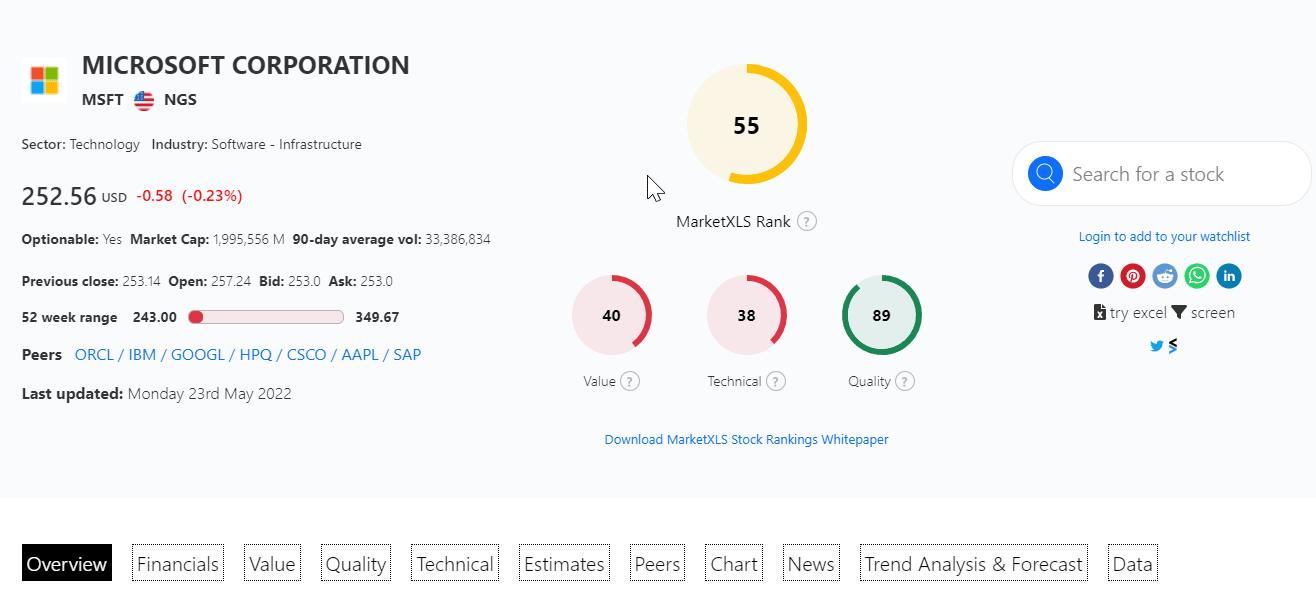 You can access the MarketXLS stock ranks in Excel with the new =rank… functions as shown below.


3) Earnings Dates (New Data Feed)
We have secured a new data contract to provide better quality earnings date data. Consequently, the =EarningsDate function has started looking at this new dataset. In addition, we will be adding more historical earnings functions in the upcoming releases for backtesting purposes.
The link to download the latest version is here: https://marketxls.com/software
If for any reason, you want to go back to the most stable previous version, then the link to download the previous version 9.3.5 is below.
https://marketxls.com/softwareprevious
Updating to this new version should not impact your existing functions or spreadsheets that you've set up.
To upgrade MarketXLS to a new version, please follow the three steps below:
1) Close Excel
2) Go to Control Panel>> Add and Remove Programs>> Look for marketXLS >> Select it and click on uninstall
3) Once the existing version is uninstalled, install the latest version by downloading it from the link above and double-clicking on the .msi file.
Upgrading to the new version should not impact your Excel sheets or your software license. The latest update will automatically recognize your existing license.
If you face any issues with installing your upgrade, we are available to help. Email us at support@marketxls.com.